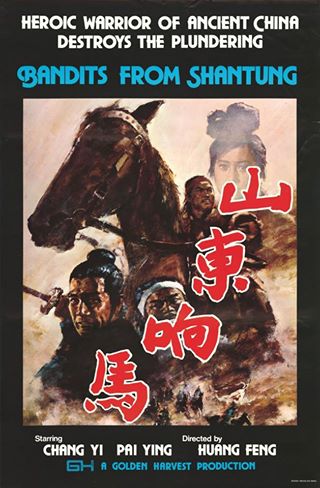 Sale!
Bandits from Shantung – English Poster
Title: Bandits from Shantung
Star: Chang Yi, Sammo Hung, Pai Ying
Director: Huang Fung
Description: This is an original large format glossy artwork poster printed by Hong Kong's legendary Golden Harvest studios. It was issued to promote the international distribution of this martial arts classic.
Publishing year of product: 1972
Condition : Mint (never displayed)
Size : 26 X 40 ins
In stock
Overview
From the glory days of Hong Kong action cinema, Reel East presents The Lost Fists Collection. We celebrate the unsung legacy of the other kung fu heroes who fought in the shadow of Bruce Lee and Wang Yu.
'Bandits from Shantung' stars Taiwanese action ace Chang Yi, a truly underrated star of swordplay and kung fu cinema. A small town is overtaken by the eponymous bandits and a lone hero, Chang Yi's Yan, must fight to free it. One of the film's stand out set pieces is a kung fu slugfest between Chang Yi and Sammo Hung, who also choreographed the movie.
'Bandits from Shantung' was one of the earliest VHS releases of a Golden Harvest film, meaning that kung fu fans saw Chang Yi in action before they saw Jackie Chan and Bruce Lee's other successors.
Reel East is proud to share this large format glossy English language poster, printed by Golden Harvest to promote the international release of the film.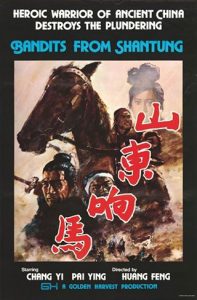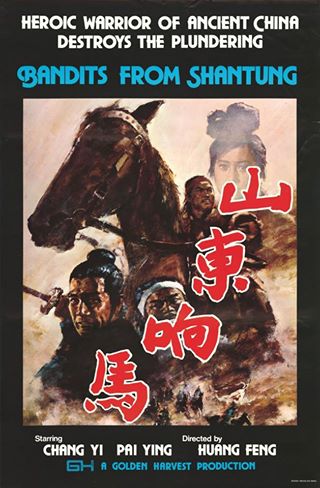 Bandits from Shantung – English Poster
by:
Warning: Invalid argument supplied for foreach() in /home/reeleast/public_html/wp-content/themes/bebostore/woocommerce/content-single-product.php on line 94

Update Required
To play the media you will need to either update your browser to a recent version or update your
Flash plugin
.