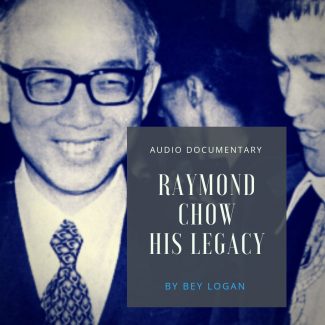 Sale!
Raymond Chow: His Legacy Audio Documentary
by: Bey Logan
Available for Download Now
Raymond Chow : His Legacy
An audio documentary (audiomentary!) by Hong Kong film-maker, historian and martial artist Bey Logan.
The first in the series has Bey share facts and opinions about the life and work of Raymond Chow, founder of the Golden Harvest film studio and the man who brought Bruce Lee to the world. Chow, who passed away the day before this audiomentary was recorded, left an unmatched legacy in terms of his contribution to Asian action cinema. From his office and kung fu school in Hong Kong, surrounded by the mementoes from Raymond Chow's classic films, Bey delivers a heart-felt and fact-packed memorial to a great man.
Note: A purchase provides the customer 5 downloads within 30 days
Overview
Raymond Chow : His legacy
Reel East is proud to exclusively present Bey Logan's  first audio documentary. In this hour-long discourse, Logan describes in detail the impact Raymond Chow had on the Hong Kong film industry. Bey draws on his own knowledge of Chinese film history and shares rare information from the life of this master film-maker. Fans of Bruce Lee and Golden Harvest's other action heroes will find much to appreciate in Logan's heartfelt memorial to a true legend.
Bey Logan has worked with numerous companies to promote Chinese martial arts cinema in the worldwide market. He has recorded over 200 DVD commentaries and is likely the most prolific and well-known film commentator worldwide.
In this new format, the audiomentary, Logan will share his knowledge about different aspects of the Hong Kong Chinese film industry, revealing different aspects of martial arts movie history and giving a new perspective on recent occurences in the kung fu cinema circle.
Note: A purchase provides the customer 5 downloads within 30 days