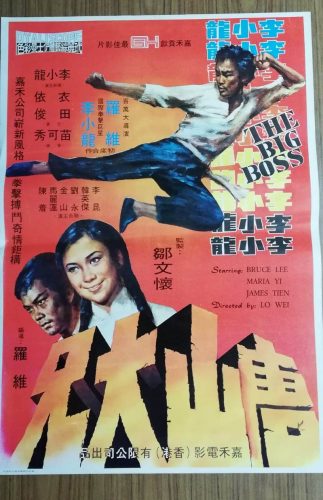 Sale!
The Big Boss – Chinese Poster
Title: The Big Boss
AKA: Fists of Fury
Star: Bruce Lee
Director: Lo Wei
Description: This Chinese language theatrical movie poster was printed by Hong Kong's legendary Golden Harvest studios. It features the kind of stylised artwork used on Hong Kong movie posters of this era. It was issued to promote the theatrical release and Asian region distribution of Bruce Lee's breakthrough hit.
Publishing year of product: 1971
Condition : Mint (never displayed)
In stock
Overview
In 1971, a then largely unknown Chinese actor named Bruce Lee returned to Asia from America to make his kung fu movie starring debut in 'The Big Boss'. The film was shot in Thailand on a shoestring budget and helmed by Hong Kong director Lo Wei. 'The Big Boss' (1971) delivered Bruce Lee, fully formed, as the new king of Asian action cinema. The studio that produced the film, Golden Harvest, soon realised that Lee's charisma and his style of martial arts movie-making would win him a worldwide audience. 'The Big Boss 'was dubbed into English, and released in the North American market as 'Fists of Fury'. Its success paved the way for dozens of other 'chop socky' movies. The film went on to enjoy theatrical release and re-release internationally. 'The Big Boss' also became a staple video title, finding a new audience with each new home entertainment format.  Reel East is proud to be able to offer the memorabilia created by Golden Harvest to promote 'The Big Boss' internationally, and give fans the opportunity to buy a part of The Little Dragon's legacy for themselves.
The Big Boss – Chinese Poster
by:
Warning: Invalid argument supplied for foreach() in /home/reeleast/public_html/wp-content/themes/bebostore/woocommerce/content-single-product.php on line 94

Update Required
To play the media you will need to either update your browser to a recent version or update your
Flash plugin
.