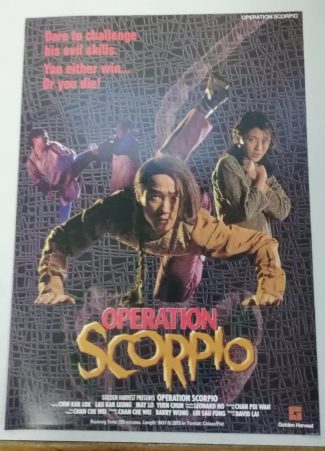 Sale!
Operation Scorpio Flyer
Title: Operation Scorpio
Star: Lau Kar-leung, Chin Kar-lok, Kim Won-jin
Director: David Lai
Description: This is an original glossy colour flyer printed by Golden Harvest to promote the international sales of the film.
Publishing year of product: 1992
Condition : Mint (never displayed)
Size: A4
In stock
Overview
Reel East continues our Hung Gar Heroes series with a movie that brought back one of the truly legendary figures of the style and of the kung fu cinema world: Lau Kar-leung.
Lau Sifu's father, Lau Cham, was a student of the great Lam Sai-wing. Himself an actor as well as a kung fu master, Lam Snr introduced his son the worlds of both Hung Gar and Hong Kong cinema. Lau Kar-leung made his name at the Shaw Bros studio, originally as a martial arts choreographer and then as a director. His classic films include 'The 36th Chamber of Shaolin', 'Heroes of the East', 'Legendary Weapons of Shaolin' and '8 Diagram Pole Fighter'.
After the closure of the Shaw Bros studios, Lau Sifu made memorable cameo appearances in various films, before making a return to centre stage for the Golden Harvest produced martial arthouse masterwork 'Operation Scorpio'.
Directed by David Lai, the film starred stuntman-turned-actor Chin Kar-lok, and was co-choreographed by Lau Sifu himself. It also provided a fantastic showcase for high-kicking Korean actor Kim Won-jin. 'Operation Scorpio' gave modern audiences a fresh chance to watch Lau Kar-leung, and to appreciate the unique acting and action skills of a true master of his craft.
The film is also known variously as 'Palette' and 'The Scorpion King'.
Reel East are excited to share the original memorabilia created by Golden Harvest to promote 'Operation Scorpio'. These items are a must-have for fans of kung fu cinema and for long-time devotees of Hung Gar kung fu.
Original international sales flyer (A4 sheet folds out into A5 poster) :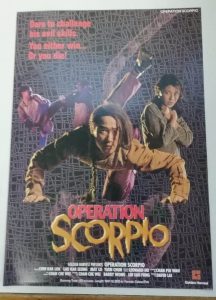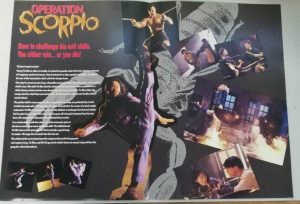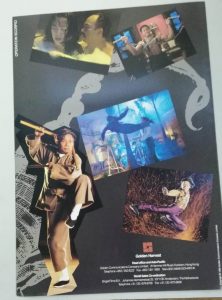 Operation Scorpio Flyer
by:
Warning: Invalid argument supplied for foreach() in /home/reeleast/public_html/wp-content/themes/bebostore/woocommerce/content-single-product.php on line 94

Update Required
To play the media you will need to either update your browser to a recent version or update your
Flash plugin
.