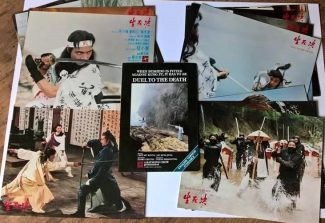 Sale!
Duel to the Death Chinese Lobbycard Set
Title: Duel to the Death
Star: Tsui Siu-keung, Damian Lau, Flora Cheong-leen
Director: Ching Siu-tung, Lee Hyung-po
Description: This is an original 12 lobbycard set printed by Golden Harvest to promote the theatrical distribution of the film.
Publishing year of product: 1983
Condition : Mint (never displayed)
In stock
Overview
'Duel to the Death' saw wu xia cinema maestro Ching Siu-tung team with Korean director Lee Hyung-po to create a masterful swordplay martial arts action film. This Hong Kong-Korean co-production sees Chinese and Japanese sword masters duel to decide which country has the finest blade arts.
The film sees genre veterans Tsui Siu-keung and Damian Lau show their skills in this wonderfully stylised period actioner. They receive admirable support from ballerina-turned-action queen Flora Cheong-leen, and from two great Korean names from Hong Kong  martial arts cinema, Casanova Wong and Kwan Yung-moon.
Reel East are proud to celebrate this true Hong Kong movie milestone with this original 12 lobbycard set.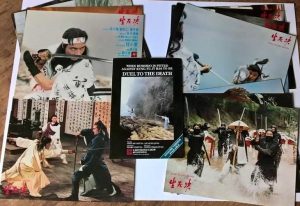 Duel to the Death Chinese Lobbycard Set
by:
Warning: Invalid argument supplied for foreach() in /home/reeleast/public_html/wp-content/themes/bebostore/woocommerce/content-single-product.php on line 94

Update Required
To play the media you will need to either update your browser to a recent version or update your
Flash plugin
.