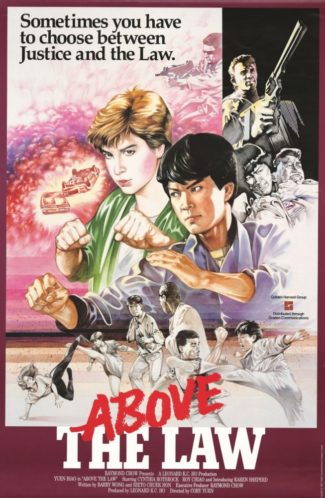 Sale!
Above The Law International Artwork Poster
Title: Above the Law AKA Righting Wrongs
Star: Jimmy Yuen Biao, Cynthia Rothrock, Melvin Wong
Director: Corey Yuen
Description: This is a photo poster printed to promote the theatrical release of this Yuen Biao actioner.
Publishing year of product: 1986
Condition : Mint (never displayed)
Size: 27″ X 39″
In stock
Overview
The third great action icon of Golden Harvest's 1980s cinema was Yuen Biao. Wiry and agile, he was given the name 'Jimmy' to put him in the same category as 'Jackie' Chan. Yuen Biao starred in action movies from a wide variety of genres, including this tough contemporary actioner, 'Righting Wrongs' AKA 'Above the Law'. The film pairs Jimmy with the American martial arts movie actress Cynthia Rothrock. Yuen is a Hong Kong lawyer who tracks down and kills those who evade the justice of the courts. Rothrock is the lady cop on his trail.
Despite the rather mainstream premise, the film allows for a string of acrobatic martial arts fight scenes. Yuen Biao duels imported American kickboxer Peter Cunningham, and Rothrock her fellow tournament forms champion Karen Sheperd. The action opens and closes on New Zealand locations, and in between in set on the meaner streets of Hong Kong.
Helmed by later 'Transporter' director Corey Yuen, who also appeared in the movie, 'Above The Law' enjoyed a worldwide release on home video, and is a firm favourite among Yuen Biao fans, and Hong Kong cinema aficianados in general.
As part of our Yuen Biao Collection, Reel East are proud to present this stunning artwork international sales poster, printed by Golden Harvest to promote the worldwide distribution of 'Above the Law':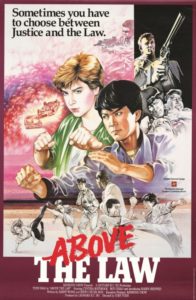 Above The Law International Artwork Poster
by:
Warning: Invalid argument supplied for foreach() in /home/reeleast/public_html/wp-content/themes/bebostore/woocommerce/content-single-product.php on line 94

Update Required
To play the media you will need to either update your browser to a recent version or update your
Flash plugin
.