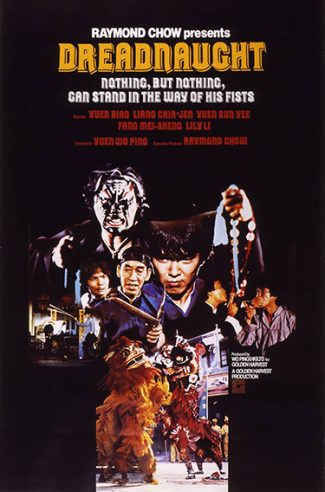 Sale!
Dreadnaught – English poster
Title: Dreadnaught
Star: Kwan Tak-hing, Yuen Biao, Leung Kar-yan
Director: Yuen Woo-ping
Description: This is an original English poster printed by Golden Harvest to promote the international distribution of the film.
Publishing year of product: 1981
Condition : Mint (never displayed)
Size : 26 X 40
In stock
Overview
When you talk Hung Gar Heroes, you're talking Wong Fei-hung, and here this  film that sees the final bow of the actor who created and defined that character for the big screen, the late, great Kwan Tak-hing.
Legendary kung fu movie director Yuen Woo-ping crafted a period detective tale with the great master investigating a Ching dynasty serial killer, The White Tiger. The film is also a star-making vehicle for actor/stuntman Yuen Biao as a naive youngster seeking to become a kung fu hero, and also provides a fine role for Leung Kar-yan as Wong's student Leung Foon.
Kwan Tak-hing, a master of White Crane kung fu, had first played Wong Fei-hung over thirty years earlier. When the first film in the black-and-white series was made, Wong's wife and son visited the set. Kwan's 70 plus run of feature films made him, understandably, eponymous with Wong Fei-hung. The films defined the cinematic elements of the Wong Fei-hung legend: his clinic, Po Chi Lam, his students, Lam Sai-wing, Leung Foon, his sidekick , Ah So, his Hung Gar kung fu skills…
After the run of the original films ended in 1970, Kwan Tak-hing revisited his signature role in three memorable films, 'The Skyhawk', for Cheng Chang-ho, and 'The Magnificent Butcher' and 'Dreadnaught', both made by Yuen Woo-ping. Yuen's father, Yuen Siu-tien, had been a key player in the black-and-white films, so it was fitting that the circle was completed by his son.
'Dreadnaught' simultaneously crafts a fitting finale for the greatest kung fu icon of the early years of Hong Kong cinema, and provides a launching pad for the career of Yuen Biao, a star of the new era.
Original English marketing poster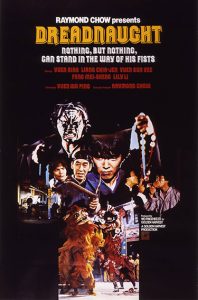 Dreadnaught – English poster
by:
Warning: Invalid argument supplied for foreach() in /home/reeleast/public_html/wp-content/themes/bebostore/woocommerce/content-single-product.php on line 94

Update Required
To play the media you will need to either update your browser to a recent version or update your
Flash plugin
.