Sale!
Brandon Lee Legacy of Rage English Poster
Title: Legacy of Rage
Star: Brandon Lee, Michael Wong, Bolo Yeung
Director: Ronny Yu
Description: This is a colour artwork poster, printed by D&B for the film's worldwide distribution.
Publishing year of product: 1986
Condition : Mint (never displayed)
Size : 26 X 40
In stock
Overview
When the son of Bruce Lee set out to become a movie star, it seemed inevitable that his career path would lead him to the film-making territory where his father made his name. In 1986, Brandon Lee came to Hong Kong to make a movie not for Golden Harvest, but the new and exciting D&B Films. The company was co-owned by Sammo Hung, the same actor Bruce had fought at the start of 'Enter the Dragon'.
Brandon's only Hong Kong movie saw him apply minimal martial arts and maximum heroic bloodshed gunplay. He was working with many talents who had worked with his father (Bolo Yeung, Mang Hoi…), but Brandon had his own unique charisma.
Director Ronny Yu developed a bond with Lee that allowed them to craft a memorable thriller, and would later helm the Jet Li hit 'Fearless', inspired by key characters depicted in Bruce Lee's 'Fist of Fury'.
Reel East are excited to share the original memorabilia created by D&B to promote this film. These items are a must-have for fans of Hong Kong action cinema, and the legacy of the Lee clan.
This is a large format tinted artwork poster, printed on classy matt paper, suitable for framing. It was created for the international distribution of the film.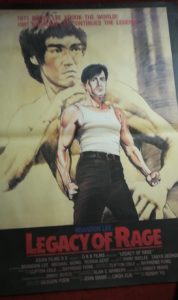 Brandon Lee Legacy of Rage English Poster
by:
Warning: Invalid argument supplied for foreach() in /home/reeleast/public_html/wp-content/themes/bebostore/woocommerce/content-single-product.php on line 94

Update Required
To play the media you will need to either update your browser to a recent version or update your
Flash plugin
.