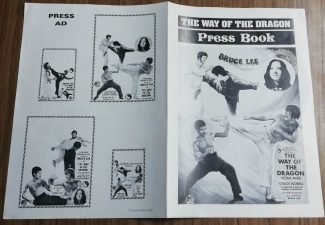 Way of the Dragon – Black and white Flyer
Title: Way of the Dragon
AKA: Return of the Dragon
Star: Bruce Lee
Director: Bruce Lee
Description: This is a black and white promotional flyer printed by Hong Kong's legendary Golden Harvest studios. It was issued to promote the international distribution of Bruce Lee's directorial debut, and circulated by local distributors to print media outlets at the time.
Dimensions: A3 folded
Publishing year of product: 1972
Condition : Mint (never displayed)
$20.00
In stock
Overview
Once established as the undisputed king of Asian action cinema, Bruce Lee became determined to make his own films. He formed his own production company and made his first film in partnership with Golden Harvest studio chief Raymond Chow. That movie, 'The Way of the Dragon', would also mark Lee's directorial debut. Bruce Lee was determined to break new ground with the film, shooting on location in Rome, Italy, and hiring the world karate champion, Chuck Norris, to play his on-screen opponent. Before the film's release, Lee predicted that 'The Way of the Dragon' would set new box office records for a Chinese movie. Sure enough, it was the most successful of Lee's films in his local market. Reel East is proud to be able to offer the memorabilia created by Golden Harvest to promote 'The Way of the Dragon' in Hong Kong and internationally, and give fans the opportunity to own a part of The Little Dragon's legacy for themselves.
Way of the Dragon – Black and white Flyer
by:
Warning: Invalid argument supplied for foreach() in /home/reeleast/public_html/wp-content/themes/bebostore/woocommerce/content-single-product.php on line 94

Update Required
To play the media you will need to either update your browser to a recent version or update your
Flash plugin
.