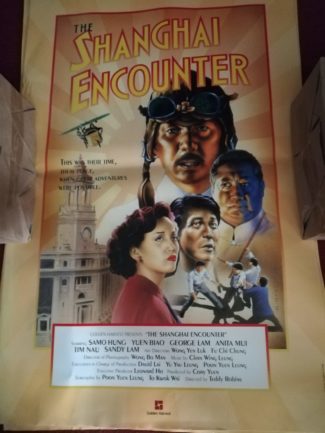 Sale!
'Shanghai, Shanghai' International Artwork Poster
Title
: Shanghai, Shanghai
AKA: The Shanghai Encounter
Stars: Yuen Biao, Anita Mui, Sammo Hung
Director: Teddy Robin
Description: An international artwork poster printed by Golden Harvest to support the worldwide sales of 'Shanghai, Shanghai', under the title 'The Shanghai Encounter'.
Publishing year of product: 1990
Condition : Mint (never displayed)
Size:  26X40 inches
Overview
'Shanghai, Shanghai', also known as 'The Shanghai Encounter', brings together some of the brightest stars of 1980s Hong Kong cinema, including kung fu icons Yuen Biao and Sammo Hung. The film also features singing stars Anita Mui and Sandy Lam, both in their debut action roles. This stunt-filled thriller was shot on some amazing intricate sets and locations, and directed by Hong Kong polymath actor, musician and film-maker Teddy Robin. The film has attracted a deserved fan following in the years since its release, and is now a bona fide cult classic.
Director Teddy Robin first made his name as a 1960s Hong Kong pop idol, before moving into the movie world as a performer and director, his hits as an actor include 'All the Wrong Clues' and 'To Spy with Love', and as a director  'All the Wrong Spies' and 'The Legend of Wisely'.
Reel East is proud to present this beautifully rendered artwork poster from the film's original Hong Kong release.