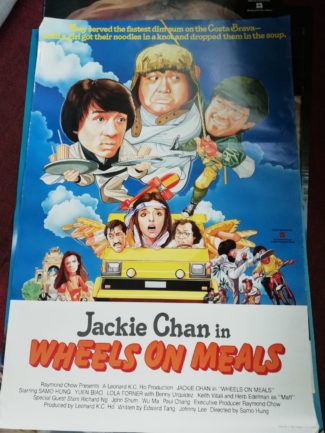 Sale!
Wheels on Meals International Cartoon Poster
Title: Wheels on Meals
Star: Jackie Chan, Sammo Hung, Yuen Biao
Director: Sammo Hung
Description: This is a glossy cartoon artwork poster printed by Golden Harvest to support the international sales of this classic action comedy.
Publishing year of product: 1984
Condition : Mint (never displayed)
Size: 26X40 inches
In stock
Overview
The greatest Asian action ace of the modern era is Jackie Chan, and Reel East are proud to present genuine movie memorabilia from Jackie's stunt-packed classics.
After Jackie Chan gained superstardom with his films 'Snake in the Eagle's Shadow' and 'Drunken Master', he signed with Golden Harvest, the house that Bruce Lee built.
There, he teamed with his former Chinese Opera school classmates Sammo Hung and Yuen Biao. Jackie first joined forces with them on-screen in leading roles for the pirate swashbuckler 'Project A'. For 'Wheels on Meals', the action shifted to sunny Barcelona. Jackie and Jimmy Yuen Biao play fast food truck operators and Sammo a down at heel private detective. The trio unite to protect an endangered heiress.
The movie features physical comedy, stunning stunts and some incredible martial arts fights. The stand-out was a final reel duel between Jackie and real life kickboxing champion Benny The Jet Urquidez.
Reel East are proud to release this international sales poster for 'Wheels on Meals', featuring bright cartoony caricature artwork.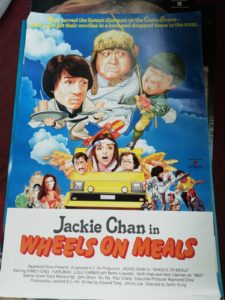 Wheels on Meals International Cartoon Poster
by:
Warning: Invalid argument supplied for foreach() in /home/reeleast/public_html/wp-content/themes/bebostore/woocommerce/content-single-product.php on line 94

Update Required
To play the media you will need to either update your browser to a recent version or update your
Flash plugin
.