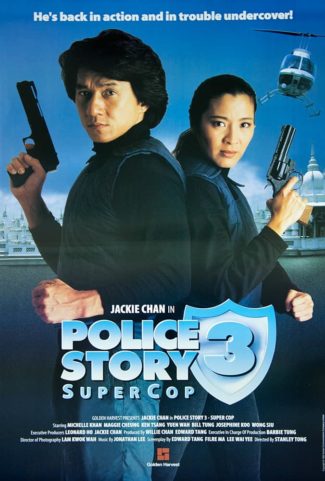 Sale!
Police Story 3 Supercop International Poster
Title: Police Story 3 : Supercop
Star: Jackie Chan, Michelle Yeoh, Maggie Cheung
Director: Stanley Tong
Description: International sales poster printed to promote the international release of the third film in Jackie Chan's best known Chinese franchise.
Publishing year of product: 1992
Condition : Mint (never displayed)
Size : 27″ X 39″
In stock
Overview
For over 40 years, Asian action cinema has been dominated by one man, and Reel East is proud to celebrate that  most famous name in Hong Kong martial arts movies with The Jackie Chan Collection.
Jackie's first two 'Police Story' movies had set a whole new standard for contemporary Hong Kong cop thrillers. With 'Police Story 3', Chan raised the stakes with a new director, Stanley Tong,  a new co-star, Michelle Yeoh and a new locale, Malaysia. Not for nothing did he subtitle the film  'Supercop'.
Stanley Tong had come up through the ranks as a stuntman and action coordinator, and made an impressive debut with his film 'Stone Age Warriors'. Jackie related to this former fall guy wanting to take the director's chair, and this film saw the start of a long-time relationship between director and star.
After an impressive initial run of action films, Michelle Yeoh had retired from the screen after her marriage to billionaire Dickson Poon. Stanley Tong had been Michelle's stunt double on her film 'Magnificent Warriors', and she had promised Stanley that, if he ever directed a film, she'd come back to star in it. And she was good to her word.
Where 'Police Story' and 'Police Story 2' had been very definitely set in Hong Kong, the third film shifted the action to Malaysia, and also included scenes shot in the south of China. Maggie Cheung, as the long-suffering girlfriend of Chan's character, is gamely along for the ride.
Jackie broke out all the stops for this movie, with more stylised martial arts that the earlier films and incredible stunts featuring all manner of vehicles, most memorably a helicopter and a train. The film also marked the first time that Hong Kong audiences heard Chan's actual voice on the soundtrack!
Reel East and The Jackie Chan Collection are proud to celebrate 'Police Story 3: Supercop' by making this original international sales poster, printed for the 1992 distribution of the film, available to Chan's worldwide fan base.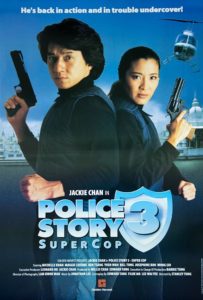 Police Story 3 Supercop International Poster
by:
Warning: Invalid argument supplied for foreach() in /home/reeleast/public_html/wp-content/themes/bebostore/woocommerce/content-single-product.php on line 94

Update Required
To play the media you will need to either update your browser to a recent version or update your
Flash plugin
.