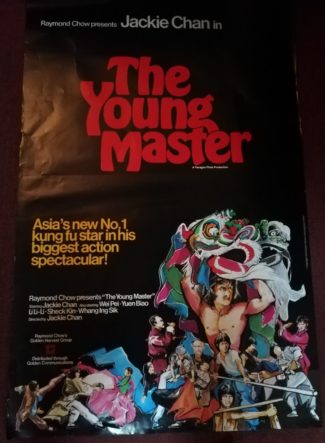 Sale!
The Young Master International Cartoon Poster
Title: The Young Master
Star: Jackie Chan, Shek Kin, Whang In-shik, Lily Li, Yuen Biao
Director: Jackie Chan
Description: Poster printed to promote the international distribution of Jackie Chan's first Golden Harvest film.
Publishing year of product: 1980
Condition : Mint (never displayed)
Size:  26X40 inches
In stock
Overview
For over 40 years, Asian action cinema has been dominated by one man, and Reel East is proud to celebrate that  most famous name in Hong Kong martial arts movies with The Jackie Chan Collection.
After the kung fu comedies 'Snake in the Eagle's Shadow' and 'Drunken Master', Jackie Chan, now a superstar, signed with Golden Harvest, the studio that Bruce Lee built. Fresh from his success with 'Fearless Hyena', which Chan both directed and starred in, Jackie pulled out all the stops with 'The Young Master'. Chan directed, starred in and choreographed the film film, AND sang the title song.
'The Young Master' gives Jackie an all-star supporting cast. He falls foul of a lawman played by legendary kung fu star Shek Kin, known to international audiences as Mr. Han in 'Enter the Dragon'. Jackie's character must contended with the sheriff's daughter, played by Shaw Bros female kung fu star Lily Li, and his son, played by rising star Yuen Biao.
The film's main villain is the high-kicking Korean Hapkido expert Whang In-shik, formerly seen in Bruce Lee's 'The Way of the Dragon'. Whang's character's introductory scene and final 15 minute duel with Jackie remain classics of the genre.
Released at the height of the kung fu comedy boom, 'The Young Master' was a huge hit all across Asia, and established Jackie Chan as Golden Harvest's new studio dragon.
Reel East and The Jackie Chan Collection are proud to celebrate 'The Young Master' by making this original international cartoon style sales poster, printed for the 1980 Hong Kong distribution of the film, available to Chan's worldwide fan base.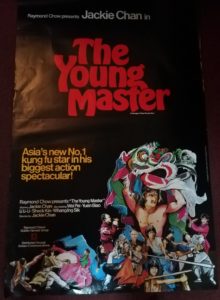 The Young Master International Cartoon Poster
by:
Warning: Invalid argument supplied for foreach() in /home/reeleast/public_html/wp-content/themes/bebostore/woocommerce/content-single-product.php on line 94

Update Required
To play the media you will need to either update your browser to a recent version or update your
Flash plugin
.